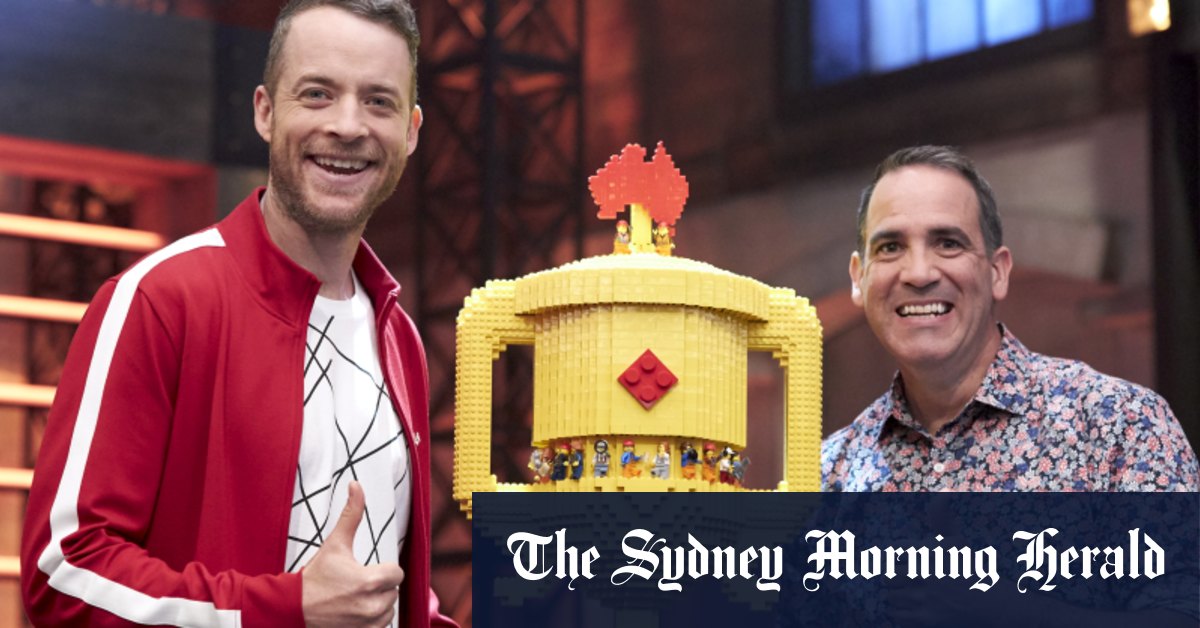 Ryan 'Brickman' McNaught counts down the 5 best Lego Masters builds
Brickman says, "What's amazing is the scale of this model. It's about three times the size of Poseidon. I was instantly drawn to the big purple house at the top, where the evil scientist lives, right on top of a steep mountain, at eye level, and then there's the story. You can stare at this model for almost half an hour and not see everything. Minifigs are the chief storyteller in the vast majority of our builds and the options they give you are excellent. Everyone who plays with Lego has minifigures, which makes a story instantly relatable. These guys really pushed it. They panic, hands in the air, grimaces. There are so many little stories. It was the culmination of all the different things they had done. If you look at all the previous challenges in different areas, this was the first time they put it all together in one version.
Strum King – 80s Rock Star by Owen & Scott (Season Three)
The challenge: In Arcade Game, participants had 12 hours to build an original arcade game based on a blind choice of minifigs
Brickman says, "The main reason this blew my mind was the technical challenges that Scott and Owen overcame to get this thing to work. He actually lit up, he did things, there was a sequence in how those things happened. The way they achieved what I had never seen before. If ever there was a home run with the bases loaded, this is it. Thinking back on that one, we went around with them – 'What's going to happen here?' It was either going to be the most amazing epic fail, or it was going to be amazing. Technical builds take a lot of time on the clock and require a lot of trial and error – which they had none. The hardest part of Lego masters asks our competitors to be creative on the spot. It's really difficult. With the pressure they're under, the only way to do that is to have fun.
Tiger in a Tree by David & Gus (season 3)
The Challenge: For Out on a Limb, teams had 10 hours to dress an empty tree branch
Brickman says, "It was a game-changer for Lego masters. We simulate all the challenges ourselves before the competitors and we have a fair idea of ​​what they are capable of doing, but I would never have attempted that myself. In addition to creativity and design, our competitors have come up against engineering and gravity. The risk was extraordinary. Is anyone faking being Hamish in our tests? This is cruel and unusual punishment and we would never do this to anyone. With the tiger, not only the features of a face must be correct – the eyes, the nose – but also the emotion. Think of us as humans: a slight flick of your eyebrow can give a completely different answer. Lifting the corner of the mouth changes an angry look into a smirk. Often our competitors play with a brick and move it around to get different kinds of emotions. It's the next level.
The Forest by David & Gus (season 3)
The challenge: For the grand finale, the teams again had 28 hours to fully reflect the technical criteria through a design of their choice.
Brickman says, "Minifigs are the Lego world and everyone knows that. To make a very distinct choice not to be in this world, I won't say you tie your hands in front of your back, but it's at least a few fingers. You're not using something that everyone relates to. It pushes the construction into a different realm, and in this case it becomes a still life or a painting. The anticipation of the wolves arriving, the look on the deer faces, really pushes the difficulty level into the stratosphere. It captures a split second and what you do, as part of the story, is imagine what the next scene might be. You worry about the deer. Will they escape? What's going to happen? This is the story being played out. With the white speckles they basically create a painting so if you do that you need to make it as accurate as possible. If you start to mess up or go cold with the wrong colors, it's going to hurt the moment. The Brick Pit took quite a beating in this episode. They used every kind of tree parts we had. There was nothing green or brown left after this build.
Lego masters is on 9Now. A new season kicks off on Nine on Monday, April 18 at 7:30 p.m.
Discover the next TV series, streaming and movies to add to your must-haves. Get Watchlist delivered every Thursday.