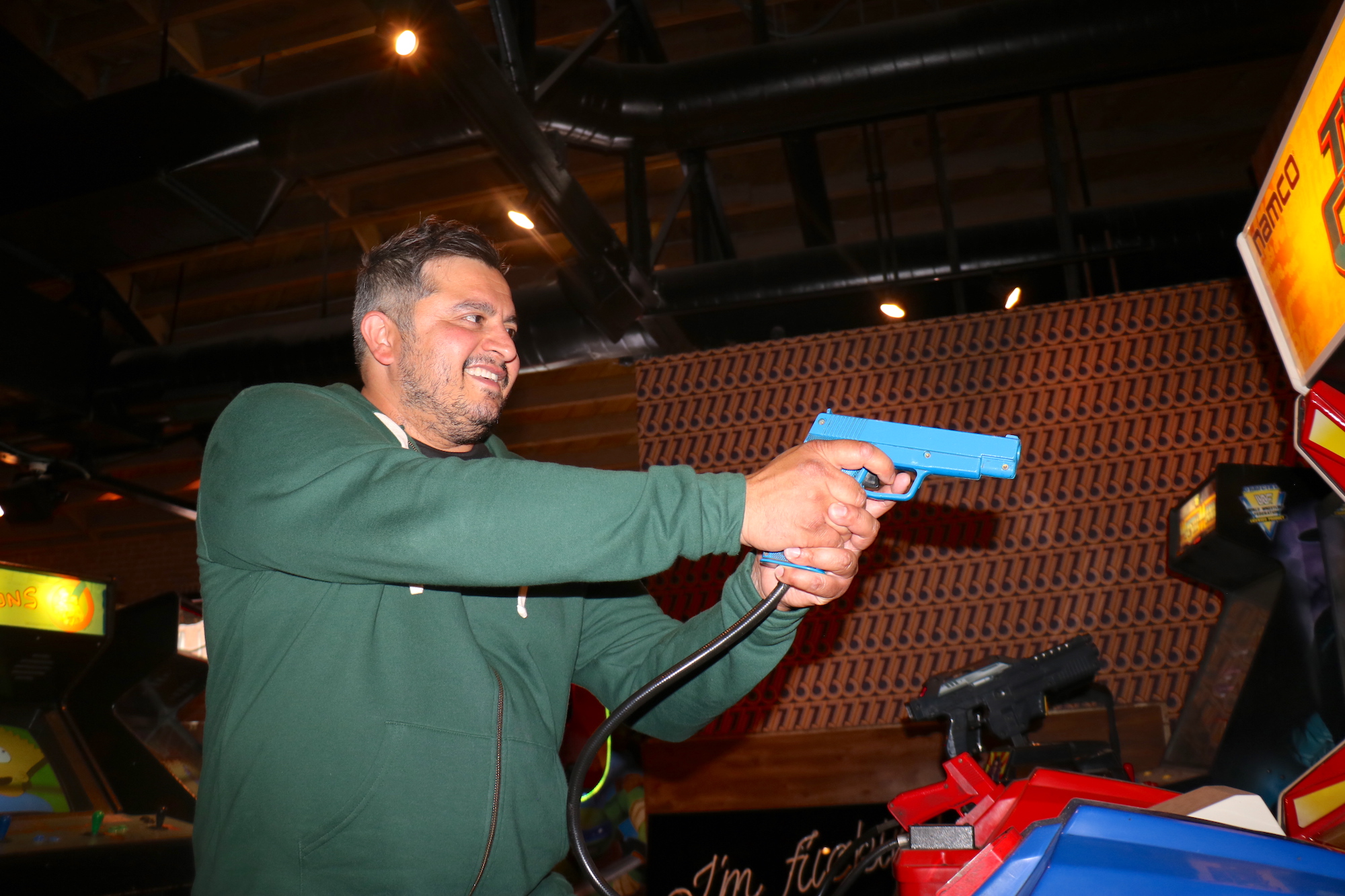 Playfield '76 gearing up to launch in downtown Reno
[ad_1]
Has Mahmood is playing Time Crisis II at Playfield '76, a refurbishment of the former Imperial Bar in downtown Reno, on June 9, 2021. The barcade is slated to open in August. Photo by Kaleb Roedel.
Does Mahmood clap his hands and shout "man! As he steps back from a pinball machine emblazoned with the words "Attack From Mars".

Mahmood, you see, was on a roll before his last ball slipped past the fins he was controlling frantically. Mahmood, focused, bends over the arcade game and throws another ball into the glass covered playground filled with neon lights, targets, bumpers and ramps.

"Pinball is something that, if you learn to play, is addictive," Mahmood says with a smile.

Mahmood is embarking on one of dozens of arcade games he's set up in a new '70s-themed bar / arcade – or barcade – he's preparing to open this summer in downtown Reno. .

Playfield '76 is a renovation of the old Imperial Bar, tucked away on North Arlington Avenue, which Mahmood and his business partner bought a few years ago. Mahmood said they closed Imperial in 2019 and began the renovation and clearance process in early 2020 before the pandemic put their business plan on hold.

"We had a pretty big funding shortfall and found ourselves in an awkward position as to how to continue? Said Mahmood, seated at a table inside Playfield '76. "We had already collected most of these games and started to revamp our process and improve our tenants. There was anxiety and numbness when you didn't have much control at first.

Those feelings faded after the vaccine was approved and began to spread across the country, said Mahmood, who even signed up to participate in a vaccine trial.
"I started to think to myself 'OK, there is hope'," he said. "And America is the most social country, so I knew things would sort of come back at some point."

"GOOD ENERGY AND GOOD TIMES"

Months later, Mahmood prepares to launch his new business.

Before COVID, the barcade owner spent months driving a moving truck through cities across the West Coast – from Las Vegas to San Diego to Portland – to collect arcade games he bought online for his new business. The cost of each game, he said, ranges from around $ 800 to $ 2,000.

In all, he said Playfield '76 has 30-35 video games and pinball machines plugged in and ready to play. One of his most popular purchases is the Attack on Mars pinball machine, which he says is in "pristine condition".

Other arcade games that he was particularly happy to give a new home included NBA Jam, Time Crisis II, and The Simpsons, as well as the Medieval Madness pinball machine.

"I kind of fell in love with this concept because I feel like barcades tend to invite good energy and good times," Mahmood said. "There is also a wide range of people who come here. It's not just 21-year-olds. These are people who grew up with these games – people in their 40s and 50s who played them as teenagers. It's really cool to see a man of 50 and 21 playing the same game. It's kind of a dope. That's why we wanted to do a barcade.
Playfield '76 will also offer more than arcade games to customers. In addition to craft beer and cocktails, the barcade will serve pizzas, wings, sandwiches, salads and more.

Mahmood said he plans to open Playfield '76 in early August. Until then, his focus is on hiring staff and preparing everything before launch.

"It took a while not to be too high or too low – something we learned as business owners during the pandemic – but I'm pretty excited now," Mahmood said. "We're honestly looking forward to being part of the community and being part of the fabric.

"We're going to be very proud to help develop the culture of food and drink and add something that will make people feel at home and excited."

PRESS START ALWAYS IN PAUSE

Speaking of barcades, Press Start Reno is in the process of relocating to its new location in the Midtown area of ​​Reno.

The company left its old Midtown location at 1413 S. Virginia St. late last year after struggling to stay afloat during waves of COVID shutdowns.

Additionally, this location was sold in November to Nevada Physical Therapy, which renovated the property and opened earlier this year.

With the help of various community donations – including a GoFundMe launched last fall which last week raised more than $ 17,000 – Press Start announced in April that the company had signed a lease to long term across town at 600 S. Center St.

At the end of June, Press Start owner John Simpson told the NNBW that the company was still working through the City of Reno clearance process; an opening date is yet to be determined.
[ad_2]