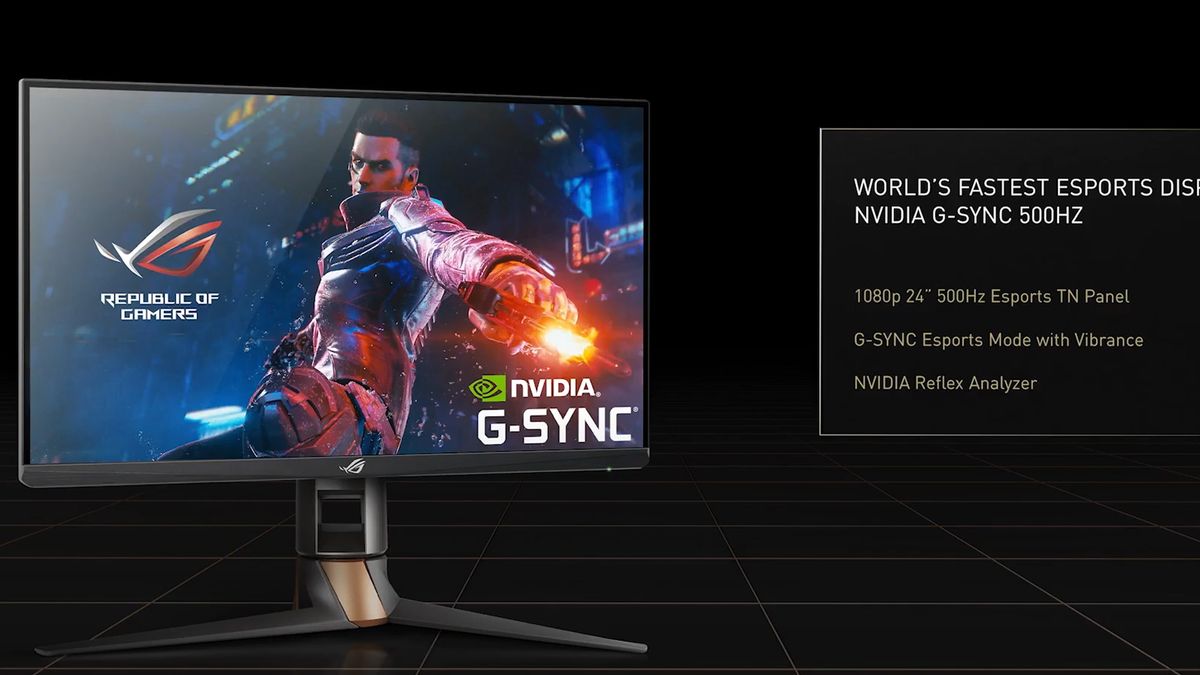 Nvidia announces Asus Rog Swift 500Hz gaming monitor at Computex
Nvidia's Computex 2022 keynote focused on big ideas like AI training and data centers for enterprise and cloud gaming. We also saw a few new titles anointed with RTX and DLSS support. But there was a gaming hardware announcement that shocked us, even though it wasn't a GPU.
During the keynote, Nvidia announced the new Asus ROG Swift 500Hz gaming monitor, which is the fastest refresh rate we've ever seen. Most high refresh rate monitors are closer to the 170Hz mark, or at the upper extreme, 360Hz. So 500Hz is a really crazy refresh rate for a gaming monitor, especially one announced without much fanfare at an Nvidia conference.
The Asus Rog Swift 500Hz also has a 24″ 1080p display with what Nvidia is calling an all-new TN panel. Although TN panels are quite old technology, they also have very low latency, which follows the rest of the theme of this high refresh rate monitor Nvidia crowned it "the lowest latency, highest refresh rate G-sync esports monitor ever" in the announcement.
It's been highly optimized for low latency gaming, which means you miss out on other features, like a higher resolution screen. Still, for those who really want to eliminate any latency from their gaming experience, this will be an excellent and probably expensive choice.
The monitor was mooted in conjunction with Nvidia's Reflex Analyzer software, which is built right into games like Fortnite and Apex Legends to help mitigate latency. According to Nvidia, the tech coordinates the game and the graphics driver to reduce any system latency, and given that's what this new Asus 500Hz display is all about, that's why they've been discussed together .
We don't have any pricing information for the Asus Rog Swift 500Hz gaming monitor yet, but given its unique status and marketability to professional esports gamers, we're not expecting a cheap display.