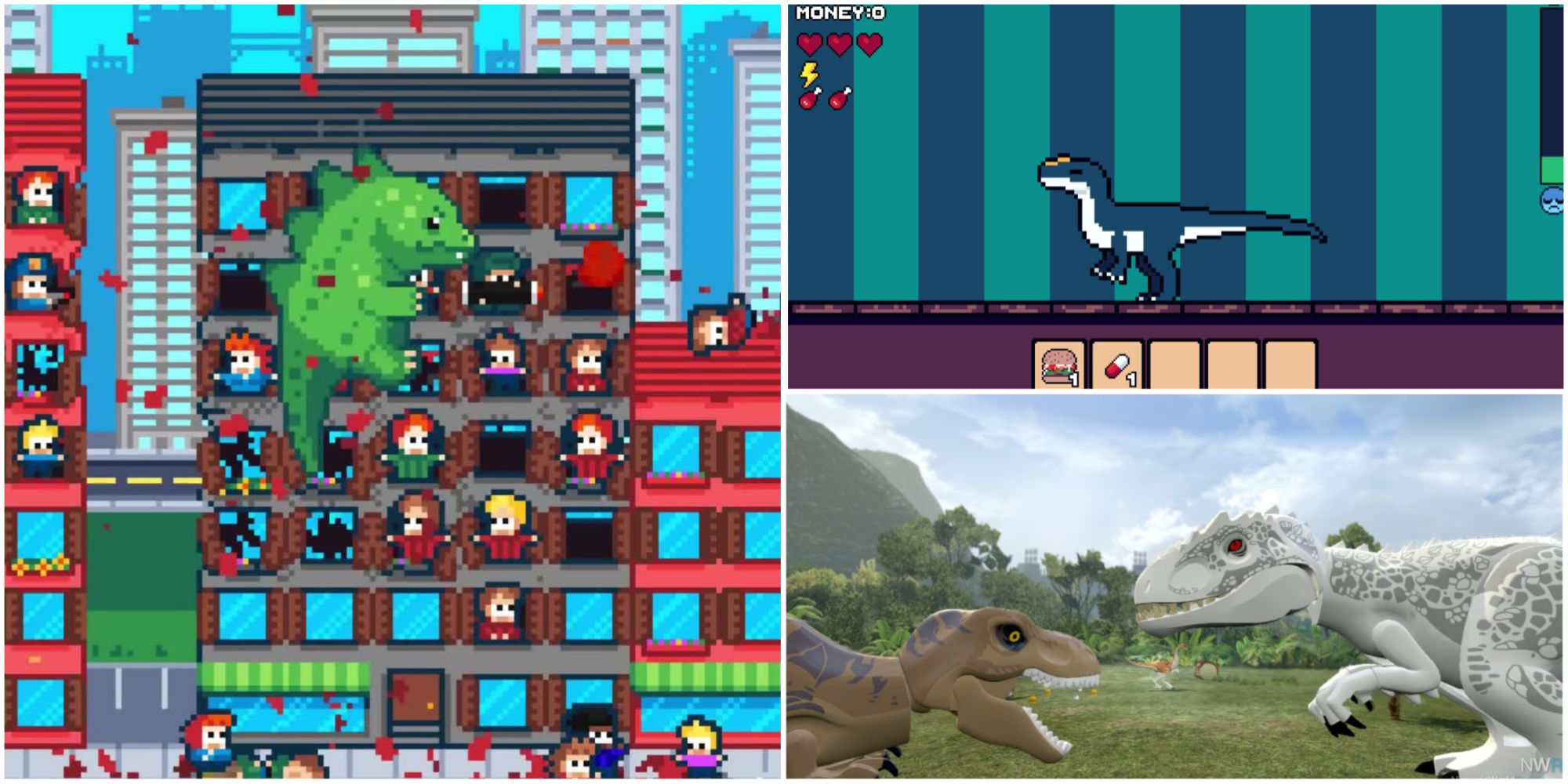 Fun dinosaur games for kids
Today's biggest video game titles are often considered mature, not only in their levels of gratuitous violence, but also in their intense adult themes. These types of games prove that there is a large audience for adult gamers and a real demand for adult-themed games. That being said, children are still a major aspect of the gaming community, something that is constantly glossed over. After all, it is during childhood that many gamers fall in love with this form of media.
RELATED: Unusual games for children
With gaming platforms like Steam, many video games suitable for children are readily available, covering all sorts of themes, but what better than dinosaur themed video games? These prehistoric creatures are captivating, majestic and fearsome and are sure to capture any child's attention for hours. These are some of funniest dinosaur games for kids!
10/10

Back home dinosaurs
Back home dinosaurs is a tower defense game with light puzzles and strategic elements. Players take on the role of a little gopher hosting a barbecue. Sounds innocent enough, right? Hordes of hungry dinosaurs are threatening to steal his barbecue, so players must defend him and keep those dinosaurs at bay by building different towers.
With its multitude of original characters, intense strategy, and easy-to-learn controls, Back home dinosaurs is accessible enough for children but challenging enough for adults. This game has a cute cartoon art style that players of all ages will enjoy.
9/10

Animal Revolt Battle Simulator
Fans of battle simulation games like Totally accurate combat simulator gonna love this one! Animal Revolt Battle Simulator is the ultimate physics based combat simulator where players can stage battles between all kinds of ragdoll creatures, from skeletons to mighty T-Rex, as there are over 70 creatures to choose from, with new ones added frequently!
Hilarity is sure to ensue, especially with the Unit Creator, where players can create their custom masterpieces (or abominations) by mixing different body parts with ultimate flexibility – the sky is the limit of what can be done! Animal Revolt Battle Simulator easily provides hours of entertainment.
8/10

Dino Run DX
Dino Run DX is a classic racing game is reminiscent of old school 80s arcade racers with its simplistic pixel art and retro sound effects. With side-scrolling action, players can control a colorful 2D raptor through various randomly generated settings, where no two levels are the same. They must jump over environmental hazards and out of the impending pyroclastic cloud to escape extinction!
RELATED: Best Educational Video Games for Kids
Players can experiment with a variety of hats and color combinations to give their dinosaur their own style and can unlock even more by completing in-game stages! If players like Dino Run DXthere's a sequel coming on the way.
7/10

PixARK
Platforms: PC, Xbox One, PS4 and Nintendo Switch.
Want to Minecraft but with dinosaurs? Look no further than PixARKwith its vast world filled with vicious dinosaurs, immersive craft, and unlimited adventure! There are plenty of character creation customization options and progression systems, with skill trees for a completely unique player experience!
Ride a mighty T-Rex or go on an adventure taming a multitude of creatures with over 100 different beasts, both fearsome and cute, to interact with. There are unlimited ways to play PixARK, especially with its procedurally generated quest system. Form a tribe with friends or fly solo – live just to survive one more day!
6/10

dinoscape
Platforms: PC, iOS and Android devices.
dinoscape is nostalgic side-scrolling platformer reminiscent of old school arcade games. The player must control a majestic bearded caveman atop a dinosaur as he must escape falling fiery meteorites, lava, and other environmental hazards to save the dinosaurs from extinction.
Players must go through the game, collect coins and complete platform levels to unlock different rideable dinosaurs and other in-game cosmetic items to adorn their dinosaur. The caveman and his trusty dinosaur can have matching cowboy hats! What's not to like?
5/10

gigantosaurus the game
Platforms: PC, PS4, Xbox One and Nintendo Switch.
Discover the prehistoric world of gigantosaurus! This Disney Channel dinosaur-inspired adaptation is kid-friendly with single and multiplayer options, with co-op split-screen available. The four dinosaur friends, Rocky, Tiny, Mazu and Bill must unite to destroy the meteor blocking the volcano of Giganto!
RELATED: Cooperative games that parents can play with their children
This flamboyant and eye-catching world features lots of unique platforming elements and a third-person perspective, so players get a full view of their surroundings. Giganotosaurus also has a whole open world ready to be explored for players to collect and unlock new items.
4/10

Dinogotchi
Platforms: PC and Nintendo Switch.
Dinogatchi is the perfect game for those who i miss the good old days of the 90s with Tamagotchi digital pocket pets. There are 15 dinosaur species to choose from as players can raise them from an egg and watch them age and evolve while giving their prehistoric friend lots of love and snacks!
The user interface is simple and easy to learn, and there are two original mini-games that players can spend their time with. One mini-game is an educational quiz, and the other has their adorable dinosaur pet equipped with a gun to defend their garden from invading insects! These allow the player to earn coins to buy food for their beloved dinosaur. With its retro style arcade graphics, Dinogotchi is sure to scratch that nostalgia itch.
3/10

Parkasaur
Platforms: PC and Nintendo Switch.
Parkasaur is a tycoon management game where players build their own zoo/dinosaur theme park from scratch, which can house and breed over 24 different species of dinosaurs. Let your creativity run wild as there are a wide variety of park customization options to attract more customers. But be careful with exhibits, as dinosaurs can sometimes break free from captivity!
RELATED: Best Nintendo Switch Games for Young Kids (Across Multiple Genres)
Parkasaur is a cute dinosaur game for kids of all ages, as it really plays to his goofy, goofy nature. Each dinosaur has googly eyes and can be customized with different accessories to enhance its appeal. Who doesn't want to see a T-Rex wearing hot pink sunglasses?
2/10

Hemasaurus Terror
Platforms: PC, PS4, PS5, Xbox One, Xbox Series X/S and Nintendo Switch.
Wreak havoc on humanity as a legendary dinosaur in Hemasaurus Terror. Topple skyscrapers, jump on buildings, overturn cars, launch humans into helicopter blades – there are many ways to wreak havoc! You also have the choice of four towering monsters, each with their own menacing powers – perfect for cooperative split-screen carnage!
Wacky smash-em-up mechanics will keep kids entertained for hours in this retro apocalyptic arcade game of terrifying monsters, surprisingly lovely pixel artand ultimately satisfy destruction.
1/10

Lego: Jurassic World
Platforms: PC, PS3, PS4, Xbox 360, Xbox One, Nintendo Switch, iOS and Android devices.
Experience epic storylines from the first four Jurassic Park movies, reimagined as Lego bricks with Lego: Jurassic World. Players can play through the main campaign mode and even engage in local couch co-op gameplay with free world exploration and many kid-friendly puzzles.
The players come to relive milestone events across each Jurassic Park movie, controlling multiple characters at once, sometimes even dinosaurs themselves, with freedom of movement between missions. In Lego: Jurassic WorldWreaking havoc as a dinosaur has never been so much fun, with over 20 dinosaurs to choose from, including the deadly Raptor or the mighty Triceratops!
AFTER: The best PC games for kids