15 City Building PC Games Coming In 2022 And 2023
Contents
List of new and upcoming city building games
high rise city
high rise city by Fourexo Entertainment is a new vision of City Simulators and Tycoons games that expand economy and resource management. This game is a modern take on the classic genre, enriched with a resource-based economy system. high rise city combines two distinct genres in a unique and exciting way: city builders as well as traditional economy and resource management simulations. You create bustling cities using over 40 resources and over 30,000 buildings.
Unreal Engine 4 powers Highrise City, allowing it to run on older computers. Every aspect of the game is data driven. This means that all game settings can be easily editable. Modders can also implement their own work and share it via Steam Workshop.
power to the people
This exciting experience in resource management by Hermes Interactive lets you build and maintain a power grid for a growing population. You are now ready to "Power to the People!" Are you able to keep the lights on?
Features included:
Multiple modes (main campaign mode, sandbox mode and weekly challenges).
14 missions covering the 5 continents
Different difficulty levels
Over 20 unique buildings to use
A comprehensive research tree that includes over 30 perks for discovery and management.
Different weather conditions present different challenges for the player
Random Events
Ranking
Urbek
Urbek by Kremlin Studios is a city-building game that lets you build your own communities, from nightlife districts to industrial zones. You don't need to deplete your natural resources to create more efficient structures.
Neighborhoods
You can breathe new life into your community by creating different neighborhoods. Fancy a bohemian neighborhood? You can build bars, parks and libraries but keep the density low. Are you looking for a bourgeois district? The parks and luxury shops are a must.
Manage
Urbek is not a place where money exists. Instead, you'll have to create everything from scratch using your own resources like food, coal, or skilled labor. There are over 30 resources you can manage. You need to manage your natural resources so they don't run out before you can replace them. What will you do to generate the energy needed for your industry and your people?
Educate
Education is key! You will be able to construct better buildings if you produce enough scientific and skilled work.
Observe
To better understand your city, you can walk around at street level. You can feel the differences in the neighborhoods just like the people in your city.
Organic growth
Your city's growth will be organic. Some buildings will be constructed based on the environment. In densely populated areas, for example, buildings taller than two stories and basic services will be visible.
Silicon City
Silicon City by Polycorn is a city building game that features a retro design and detailed information about each citizen. Your dream city can be built little by little, and you can help your citizens prosper. Adjust your urban architecture strategy to increase your city's economic prosperity.
You have been elected mayor of your new town. Start with procedurally generated terrain and build your city from empty plains and forests to a concrete jungle with hundreds of thousands of citizens.
To allow people to settle, create residential areas. Give them electricity and a place where they can work. To adapt your urban design, you must take into account their financial situation and their individual needs.
Capital: sparks of revolution
Capital: sparks of revolution by the Team Lapovich is an economic simulation game that simulates the class struggle. The European country is currently going through a deep political crisis. You are the mayor. Social unrest is inevitable. How much are you willing to pay to save your country?
A city with limited resources will ask you to manage it. You will have to balance the needs of people and the development of the city. To deal with angry people on the street. Your employees are your future. Remember, there is no way to make everyone happy.
The population of your city is made up of three classes: bourgeois, nobles and workers. Each class plays a different role in the city's economy. Nobles are policemen and civil servants, while bourgeois pay taxes and provide labor. They have a very different vision of the future and are ready to fight for it.
Soft transit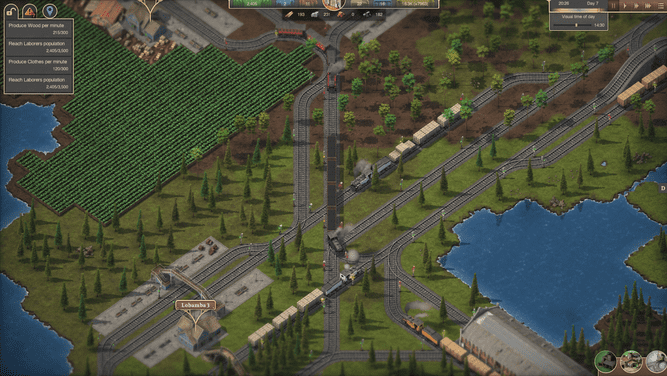 Soft transit is an original idea by Ernestas Norvaisas, former 3D artist at Factorio, and Team17. It is a strategy-based city building game set in a world where trains and the railroad are the only means of expansion and transportation.
Start with humble beginnings and build complex production lines powered by railroads. You can also turn small villages into bustling metropolises.
You can build a vast network of factories and farms that will keep your residents happy and productive while pioneering industry through the interconnected worlds of the railroad.
Edge of the lake
This side-scrolling city builder from Massive Galaxy Studios features hybrid mechanics allowing you to manage and build a peaceful town near the lake, or create a charming city-state. You will be the envy of the world with your incredible buildings and epic exploits!
furthest border
furthest border is an upcoming survival city building game by entertainment crate. You must guide and protect your people as you build a city from the wild wasteland to the edge. To survive you need to harvest raw materials, hunt, fish and farm. As you fight to survive against the elements and other threats, create crafted items that can be used to trade, consume, and equip your troops.
colony survival
This Inspired by the banished city-builder by Gleamer Studio leads a group of survivors in their quest for a new home. Manage the environment, grow crops, hunt wildlife, and create trade routes to build a unique and vibrant city.
Your people will be led to their new settlement by you, the builder of the survival city. You will need to provide them with shelter, secure their food supply, protect them from natural threats, and ensure they have access to education and work. If you do all this well, you may even be able to attract residents from other cities.
Before deciding on the perfect layout, think about where to build your colony. How do you build your settlement
kingdoms are reborn
Kingdoms Reborn by Earthshine is a city builder with simulated citizens, set in a procedurally generated world map. Your kingdom will grow from a small medieval hamlet to a wealthy global empire over time. Multiplayer mode allows you to compete or cooperate with your friends.
Civilization was destroyed by the Great Frost. Few were strong enough for the plague and cold that decimated the land. We have been living in fear for many decades since frost ravaged our land. With the melting of the glaciers, our strength and our optimism returned. We, the few survivors, must rebuild a thriving society.
New house: medieval village
New Medieval Village House by Mustafa Caner Tonbul is an upcoming PC game that focuses on medieval themed city building, is based on zoning. You can create zoning areas to meet the needs of villagers and adapt them to their demands. Your service buildings will make them happy and help you attract wealthier villagers to your village.
Characteristics:
Use the building editor to edit existing buildings or create new ones.
You can create zones based on demand.
Keep your village safe.
Give resources to the villager.
To educate the villagers, build schools and libraries.
To create advanced housing needs, attract wealthier villagers to your village.
sumerians
Sumerians by Decumanus Games – A city building game inspired by the third millennium BC. of Mesopotamia.
The game focuses on resource management, urban planning and economics. There are currently no attacks or wars.
Expanding your irrigation system, building palaces, temples, ziggurats, and building walls can help you attract new residents and grow. You can research new technologies, manage production, employ workers, and trade.
Start the game by creating a small settlement next to a river. Your citizens will be able to grow their own food and they will receive the products they need at the first market stalls.
To increase your religious influence, build a temple and hire priests.
With the crops from your own fields, pay the wages of the workers.
Make walls. These walls are necessary for certain building constructions and to allow the elevation of houses.
Your citizens can help achieve a balance between farmers, artisans, and vendors.
Builders of Egypt
Builders of Egypt by Strategy Labs is an economic strategy to build cities in the Nile Valley. You will be part of the ancient world if you immerse yourself in a world of pyramids. Be the story, create the story!
Roman triumph
Roman triumph by Interactive Coreeffect is a survival city builder and settlement sim based on classics like Banished and Kingdoms and Castles. You will have to lead your people and build a city that can withstand attacks such as minotaur, hydra and gods.
Laysara: Summit Kingdom
In Laysara: Summit Kingdom by Decent games It's hard to build a city that thrives in mountain environments. To achieve limited resources, adjust your building strategy to areas of vegetation affecting gameplay. Plan production chains to meet the needs of the three castes and deal with the vagaries of the mountains such as bad weather or avalanches.
Conclusion
We hope you enjoyed our list of new and upcoming city building games. If you think we missed any, feel free to email the Fiction Talk team.
Alex likes to play MMORPGs, chats and relax. What else is needed in life?